Enchanting, Elegant, Graceful, Majestic Mute Swans.  
Basic Anatomy Information. 
This Page is Labeled Photos of General Swan Features.
Basic Anatomy of Mute Swans
Click to Enlarge
Mute Swan Cob 
Mute Swan Pen 
***************************************************
From: knowledgerush search: Mute Swan
Common Name Mute Swans – Tame Swans
Binomial Name – Cygnus olor
Kingdom Animalia
Phylum Chordata
Class Aves
Order Anseriformes
Family Anatidae WaterFowl
Genus Cygnus
Species olor
Mute Swan – Cygnus olor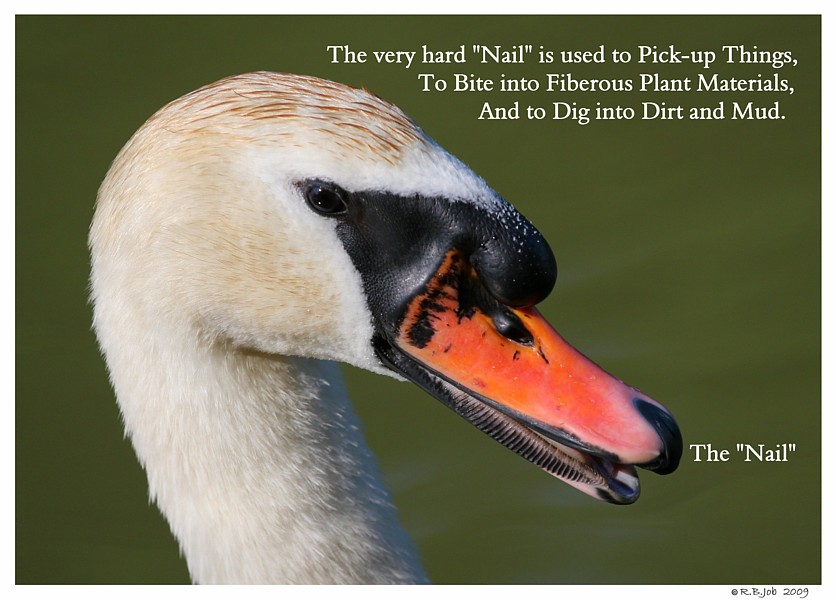 The Cygnets Nails will Become Black as they Grow.
SHE has a VERY Large Knob…
The Size of the Mute Swan's Knob is not a Reliable Way to Determine the Sex….
We Rescued the Swan Above.. he was under Weight in this Photo.
And Recovering from having his Left Wing Amputated..
This Information is a Work in Progress…..
As I learn more I will add to this information..
&&&&&&&&&&&&&&&&&&&&&&&&&&&&&&&&&&&&&&&&
Compiled by (C) L.M.Sweger                                          February  2019
&&&&&&&&&&&&&&&&&&&&&&&&&&&&&&&&&&&&&&&&